Testimonials
Yes we have bananas! -
Summer brings us ripe Bananas (Musa)  from The Sanibel Moorings Botanical Garden.  This week we are enjoying Ice Cream bananas!  If you have never tasted one you don't know what you are missing.  Bananas fresh from the garden taste nothing like store bought fruit. Ice cream bananas are the creamy-ist of all, wish you were here to taste.
---
Bauhinia Blakeana also known as Hong Kong orchid tree -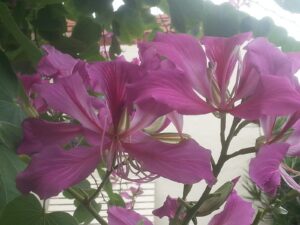 Bauhinia pronounced Bo-hin-ee-a is putting on a show with her 6″ orchid like blooms. The fragrant blooms are attractive to birds, bees and hummingbirds. This tree is considered one of the most beautiful flowering trees in Florida. The blooming cycle has just started but will only last till March or April so you should make plans to come see them now.
---
Sandra D -
"This has been a very relaxing and peaceful week in Sanibel at Sanibel Moorings. The condo was very clean, had everything we needed, we spent a lot of time on the beach and riding bikes; driving around to see the island, visited the antique store, cooked very simple meals (we bought fresh seafood on San Carlos blvd. not far from the causeway going back towards Ft. Myers); we bought food in the grocery stores on Sanibel and some off-island. Sanibel Moorings is great–beautiful gardens, very interesting and informative garden tour, made use of the grills in the BBQ area, used the tennis courts, everything provided–umbrellas and beach chairs. Of course, this was a slower time on the island. Just want to remind everyone–be sure to visit the conference center if you need a book to read or want to look at magazines about gardening or butterflies!"
---
Photoace -
"We looked long and hard for a nice place to stay on the island for our 5 year wedding anniversary. At the last minute, we found Sanibel Moorings from reviews on Tripadvisor. So, on a chance, we called and booked the weekend. Since we were taking the kids with us (3 yr old and 1 1/2), we wanted to find somewhere where we would be comfortable and have total access to the beach, attractions and keep the young ones entertained. WOW! Were we surprised! The staff, the accommodations, the location, the beach, the atmosphere … just everything at Sanibel Moorings was (as the title says) nothing short of amazing!
The grounds are dressed in the most beautiful flower and garden arrangements that you can imagine. Being right on a private beach, the shelling was wonderful! The kids brought home some wonderful finds! Not gonna mention which unit we stayed in (yea, keeping that a secret) but it was so clean, well appointed and was just perfect. It was like a home away from home.
At the moment, the ocean water isn't the best as they are releasing the overflow from Lake Okeechobee. But, don't let that deter you! Crystal clear water or not, this resort certainly made up for that! Since the water right now isn't as clear as normal, it was a little hard to find shells and sand dollars. But, go out at low tide and you will fill buckets of beautiful sea shells right on the beach. The water should clear up in the next month or two but it doesn't matter …. everything else just makes this place perfect!
If you are looking for a place to stay on the island … look no further. They are ranked #1 for a reason! Book here! Trust us! :)"
---
Krmm21 -
"We have been visiting sanibel island for 17 years starting with our honeymoon and many trips after that. Sanibel moorings is the only place for us!! The rooms are clean and only footsteps to the beach. We always request a room with a view of the ocean and enjoy many conversations in our screened in porch while listening to the waves. The grounds are absolutely gorgeous, with lush tropical plants and always immaculately maintained. The office staff is always pleasurable and we would not stay any place else. If I had to give one complaint the only thing I would say is the beach chairs need upgrading and it would be nice if they had umbrellas all setup on the beach….it's a workout to screw them in, thankfully I have a strong husband who handles that!"
---
Sk8ngirl -
"Always clean! Beautiful botanical gardens. Great place to relax. Best shelling beach. Lots do do. Chairs and beach toys provided! Beach towels provided . Very nice pools. Very nice picnic area with clean grills and fresh herbs."
---
L. Palmer -
"We are so impressed with what you provide to your guests. This is an exceptional place. In a confusing busy world, you provide a wonderful escape!"
---
Terrenski -
"Stayed here Feb 22-March 1 and we just love it! Our second visit here and I though nothing could top last year on the gulf side. Well it did! We stayed on the canal side and it was wonderful! Cozy, quiet, beautiful, immaculate and glorious grounds, great condo, friendly staff- need I say more? My only worry is it is too good and we won't be able to book a spot! My son wants to go to school near here and I would love to come back every year"
---