About Sanibel and our Sanibel Resort
Sanibel and Captiva formed as one island about 6,000 years ago. The first known humans in the area were the Calusa, who arrived about 2,500 years ago. The Calusa were a powerful Indian nation who came to dominate most of Southwest Florida through trade via their elaborate system of canals and waterways. Sanibel remained an important Calusa settlement until the collapse of their empire, soon after the arrival of the Europeans. In 1765, the first known appearance of a harbor on Sanibel is shown on a map as Puerto de S. Nibel (the "v" and "b" being interchangeable); thus, the name may have evolved from "San Nibel". Alternatively, the name may derive, as many believe, from "(Santa) Ybel", which survives in the old placename "Point Ybel", where the Sanibel Island Light is located. One story on how Sanibel got its name is that it was named by Juan Ponce de León for Queen Isabella I of Castile. Another attributes the name to Roderigo Lopez, the first mate of José Gaspar (Gasparilla), after his beautiful lover Sanibel whom he had left behind in Spain. The main town is located on the eastern end of the island. The city was formed in 1974 and is linked to the mainland by the Sanibel Causeway. A short bridge over Blind Pass links Sanibel to the unincorporated town of Captiva on Captiva Island. More than half of the two islands are preserved in its natural state as wildlife refuges. Visitors can drive, walk, bike, or kayak through the J. N. "Ding" Darling National Wildlife Refuge. The island's most famous landmark, the Sanibel Lighthouse, is located at the eastern end of the island, adjacent to the fishing pier. The main thoroughfare, Periwinkle Way, is where the majority of stores and restaurants are located, while the Gulf Drives (East, Middle and West) play host to most of the accommodations. The main town is located on the eastern end of the island. Sanibel beaches attract visitors from all around the world, partly because of the large quantities of seashells that frequently wash up there. Many sand dollars can be found as well. One of the reasons for these large accumulations of shells is the fact that Sanibel is a barrier island which is part of a large plateau that extends out into the Gulf of Mexico for miles. It is this plateau that acts like a shelf for seashells to gather. Sanibel also has an east-west orientation when most islands are north-south. Hence, the island is gifted with great sandy beaches and an abundance of shells. Learn more about the island on the Sanibel-Captiva Chamber of Commerce Website »
Affiliations
The J.N. "Ding" Darling National Wildlife Refuge Sanibel Moorings Condominium Resort believes in a tropical paradise vacation island for our guests. One of the reasons this island is what it is today is because of the J.N. "Ding" Darling National Wildlife Refuge. With more than 7,000 acres of protected land and nearly 800,000 annual visitors from around the world, this refuge is a true sanctuary for our guests and the wildlife which depends on it for survival. Sanibel Moorings is committed to helping the refuge and all it has to offer the island by being a part of the "Ding" Darling Guest Contribution Program. The Guest Contribution Program supports important conservation and education projects at the J.N."Ding" Darling National Wildlife Refuge and beyond. Working with the "Ding" Darling Wildlife Society – Friends of the Refuge, we hope to inspire a new tradition of private philanthropy for those who use and enjoy our island refuge. Upon departure, your room account will be charged $1 per night as an automatic but voluntary donation to the "Ding" Darling Wildlife Society. Your tax-deductible contribution will support vital programs—such as educational programming offered free to visiting guests, student internships, research projects, restoring and conserving our natural habitats, protecting endangered species, migratory bird populations and the other amazing creatures that add so much to our lives and our vacations.
Press
Sanibel Moorings on Sanibel Island is one of four Southwest Florida lodgings properties that have earned Expedia Insiders Select Awards for 2014.
Testimonials
Video Testimonials
Addtional Testimonials
Bauhinia Blakeana also known as Hong Kong orchid tree -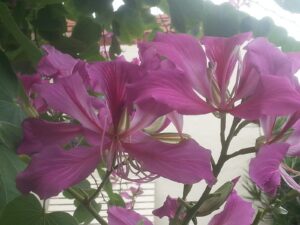 Bauhinia pronounced Bo-hin-ee-a is putting on a show with her 6″ orchid like blooms. The fragrant blooms are attractive to birds, bees and hummingbirds. This tree is considered one of the most beautiful flowering trees in Florida. The blooming cycle has just started but will only last till March or April so you should make plans to come see them now.
---
Sk8ngirl -
"Always clean! Beautiful botanical gardens. Great place to relax. Best shelling beach. Lots do do. Chairs and beach toys provided! Beach towels provided . Very nice pools. Very nice picnic area with clean grills and fresh herbs."
---
» View all Testimonials